Annual Horoscopes 2012
2012: THE END OF ONE MAYAN CALENDAR AND THE START OF A NEW AGE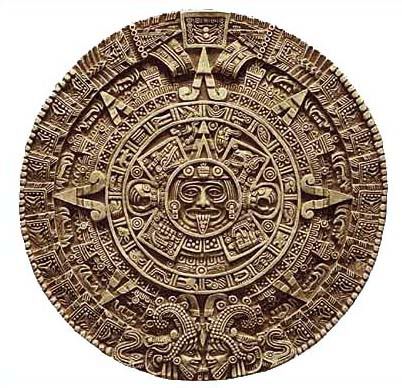 By Nadiya Shah, M.A.
This is the infamous year that marks the end of the Mayan calendar, a positive omen for a shift in what will matter most to humanity.
The Mayans were a culture based on cycles. Some cycles lasted only a day. Other cycles lasted for a lunar phase of twenty-eight and a half days. Still other cycles culminated over the course of a single season or the span of a few months.
The Mayan long count calendar is divided into segments called Baktuns. Each Baktun lasts 144 000 days. A World Age consists of 13 Baktuns. The winter solstice of 2012 will mark the end of the latest World Age, so that we may start a brand new 13 Baktun cycle, consisting of over 5000 years. Our current age has been characterized with an emphasis on materialism. There have been benefits of materialism. It has led to monuments and documents that have stood the test of time. It is also materialism that allowed the flourishing of philosophical assertions of individualism and free will, emphasizing our impact on our external circumstances and the celebration of self-determined achievement. We have also had time to understand the dark side of materialism, especially in terms of the effect we have had on ecological systems and when industry is seen as the only holders of progress.
On December 21, 2012, the Mayans calculated an eclipse that would align perfectly with the Galactic Center, known as the birthplace of our galaxy. While this exact alignment does not happen on this date, on the Winter solstice of 2010 we came close to many of their predicted celestial omens. If the Mayan oracle indicates anything, it is that we have already entered the phase where we are closing an old chapter and will soon usher in the new. It won't happen with a big show on any exact date. In fact, the sky above the celebrations  to mark the end of the Mayan calendar as we near the end of 2012 suggests a lovely party atmosphere and good time had by all.
One popular hypothesis states we will be visited by aliens, causing us to move beyond defining ourselves by nationality, which will lead to a new unity among all of us on Earth. Whatever occurs will be part of the new spiritual paradigm we will usher in more fully at the end of 2012.
This new consciousness is further reinforced by omens in Western Astrology. Neptune will find permanent home in Pisces early in the year and stay there for over a decade, preparing us for a shift in consciousness and making our new age undeniable. An interest in esoteric and alternative arts will flourish, along with all forms of art, music, and poetry.
Spirituality isn't simply about the rejection of materialism. It's about understanding materialism as part of the earthly experience, thereby keeping it in its rightful place, where one does not take precedence over the other. With Pluto showing us the dark side of materialism in Capricorn, the caution with Neptune in Pisces is that we may think we have to choose one over the other. While these planets are in harmony by sign, chances are good we are not likely to get carried too far in either direction. We will work to keep ourselves connected to both the physical aspects of living in the world with the inspiration needed to make life meaningful.
Uranus is considered the planet symbolizing equality and social change. Pluto is power and power-dynamics. Uranus and Pluto are engaged in a generation-defining conversation. We saw this conversation in the 1930s. It brought a demand by the populist for economic equality and the launch of social programs for the elderly. A similar, though not identical, conversation took place in the 1960s. It was mass protests that lead to the end of racial segregation, and its economic injustices, in the United States, and with these changes came more integrated social institutions like public schools.
In the Fall of 2011, this celestial conversation was activated and we saw the launch of the occupy movement. As the precision weakened, Pluto grew in dominance and the occupiers were forcefully evicted. Forced to reconfigure their tactics, we will see a variety of experimentation on their behalf through the winter and early spring of 2012 as Mars moves forward, backwards, and forward again. The eclipse season in June 2012 along with the first exact configuration of the Uranus- Pluto square indicate
June will see the most eventful moment yet in demands for equality. We can expect clearer messaging and tactics at this point.
The young people who are out in protest are, not exclusively but by and large, those born when Pluto was in the sign of Scorpio from 1984- 1996. Scorpio, and its connection to the 8th astrological house, suggests an emphasis on shared resources, illustrated in their characteristic as the "Boomerang Generation," returning home after their University years to once again receive emotional care and financial support from their parents. Once those of this generation have committed to a course of action, it is hard to thwart their effort or to get them to lose heart.
Pluto's force is powerful, but Uranus is often successful in its demands for social equality when it stays rooted in non-violence. As I said, this omen will define our generation and lead to significant social changes. They have already changed the political discourse around the world. Their impact on our social consciousness will become undeniable in 2012.
Finally, Jupiter will move into the sign of Gemini in the Summer of 2012, bringing an expansion of communication and its technologies. As much as smart-phones continue to wow us with new features, we will be further amazed by advancements in 2012. I am predicting that voice to text technology, now in its infancy, will become a standard feature in phones and computers. We should see leaps in this phenomenon in the second half of 2012 and into the next year, as Jupiter reaches out to Uranus, planet of new technologies. For those who have been disheartened by the fact that young people are growing without the need for handwriting, and dependant on their keyboard, are likely to feel further dismayed as typing becomes less necessary once our computers and devices ask us only to speak. Emailing will also take on new characteristics, as providers expand features and introduce new ways to send an electronic message.
It will be a great year, enjoy!
Read and Watch your 2012 Horoscope by Sign below.
Aries Annual Video Horoscope 2012
Taurus Annual Video Horoscope 2012
Gemini Annual Video Horoscope 2012
Cancer Annual Video Horoscope 2012
Leo Annual Video Horoscope 2012
Virgo Annual Video Horoscope 2012
Libra Annual Video Horoscope 2012
Scorpio Annual Video Horoscope 2012
Sagittarius Annual Video Horoscope 2012
Capricorn Annual Video Horoscope 2012
Aquarius Annual Video Horoscope 2012